I'm linking up with Skinny Meg for Work Out Wednesday.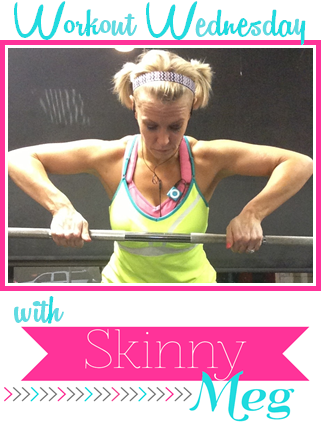 For a little over a month now I have been changing up my workout routine. I use to be strictly cardio with weights twice a week. You know this from my constant posts regarding my long mile runs. (Hey, they are long for me) I haven't ran in awhile. Not a long distance. I'm wondering If I still could at this point. I'm hoping it's like riding a bike, you just get back on and start where you left off. Why do I have a feeling it won't be like that. Not at all. Anyways, after not really seeing much change in my body, or my clothes or the scale I decided something needed to change. My frustration was at a all time high, I was letting the number on the scale ruin my days emotionally and I wanted to throw eating healthy out the damn window and just eat a cheeseburger. And yes, I have been eating more clean for while now too, so between that and my work outs I thought something would change. Not anything. Six months later, and nothing.
Now I love being a healthier version of me. I love working out, so stopping that was never really an option for me. I love eating better. Even if it's hard, it makes me feel better. And I love the food that I eat. But something had to give. I talked to several different "non-expert" Experts and although a lot of the information was different there were things that were consistent. Lift. More. Weights. More weight, less cardio. And do your cardio after weight lifting. So...that's what I did.
I now lift five days a week. And I won't sugar coat it, in the beginning it was intimidating. I didn't know what I was doing, I still really don't, but I conquered my fear. I got past the uncomfortable, out of my safe box, and made it happen. I focus on each muscle group twice a week. I also do HIIT training and I find a lot of WOD (work out of the day) online. They are exhausting and I always get a really high calorie burn. I love them! Mostly I love looking forward to doing something different for my body. Change is good.
Here is what I do for my Arm days. (Twice a week, followed by cardio)
I did these because that is where I see the most change. In my shoulders and my biceps. And although the scale doesn't reflect my hard work, my shorts are a lot bigger on me than they were last summer. Yep, so I threw out the damn scale.
*You tube any move you don't know how to do.